Launch: Creating a Brand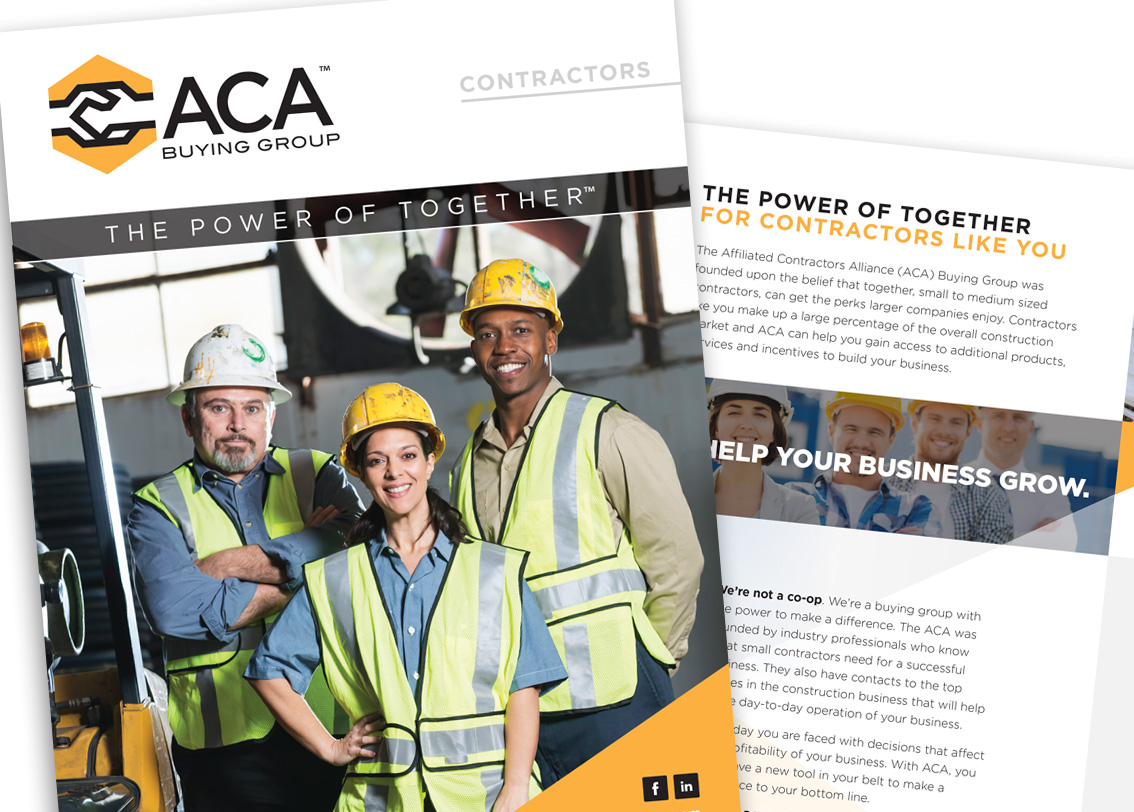 Creating a brand for your company or a product is one of the most important things you'll do to contribute to its success. Your brand identifies who you are and communicates "your promise" to the customer. It also can differentiate you from the competition.
Key steps to creating a successful brand:
Design a great logo
Write a brand message
Create a "voice" that speaks to your audience
Develop a memorable tagline
Be consistent and true to your brand
To develop these components, you must have a thorough understanding of your potential customer base. How your product or service is received depends a great deal on how well your brand communicates a meaningful message. Most successful brands will marry an impactful visual identity with a strong personality. At the foundation is the logo, coupled with key messaging communicated through a strong "voice".
When the Affiliated Contractors Alliance Buying Group (ACA) was formed, the first order of business was to create a memorable brand. ACA is a buying group directed to small-to-medium sized construction contractors. It affords the benefits of group purchasing power for products and services that they use everyday. Those products and services come from vendors that also joined the ACA. For them, the ACA is a means to directly tap into a market segment that has been traditionally difficult to market to.
One of the biggest challenges TGC faced was that the ACA is the first buying group directed to the small contractor market segment, so no competitive analysis was available. As an organization that brings buyers and vendors together, a branding message had to be created that would speak to both parties. By studying similar organizations in other markets, tapping into the extensive knowledge of the ACA founders and TGC's own experience in the contractor supply industry, a marketing strategy began to take shape.
It was important that the ACA's brand reflect the strength and partnership that the group represents, hence the tag line "THE POWER OF TOGETHER" was chosen along with key messaging to support it. When creating the logo, TGC also took its design queues from that strength and partnership, visually illustrating an identity that relates to the target audience and translates well across all medias.
Like most brands today, the ACA will utilize both digital and print channels to reach new members. For the launch, TGC developed a responsive website with an App that will help contractors identify and track purchases from participating vendors. Business cards, letterhead, and member stickers were created, and banner stands, table cards and branded apparel were also developed for trade shows and special events. TGC created two brochures, one that spoke to the contractor audience and another to potential vendors (Solution Providers).
The ACA was formally introduced in October of this year at the NECA Show in Boston, MA. They are currently taking early enrollment of new members in anticipation of the full launch on January 1st.
To see the work created for the ACA Buying Group and other samples TGC has done for its customers or look up previous TGC Highlights and Insights, please click here.
Written by:
Steve Hoffmann & Michael Giblin